Chances are, if you know me, you've heard me ranting about this movie called Serenity.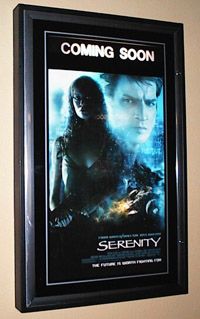 This is the poster in the Crescent City Cinemas hallway!


To make a long, interesting story short, back in 2002 Joss Whedon (creator of Buffy the Vampire Slayer and Angel) proposed a show called Firefly. FOX bought it. Then they scrapped the pilot, aired the episodes out of order, bumped the schedule around for sports, and cancelled it after only 14 episodes were shot.

Then the word started getting around that hey, it was a damn good show. And as of now, the collected 14 episodes that were shot is #7 in Amazon's DVD sales. So Universal picked up Joss's idea of a movie based on the show, and Serenity was born.

Basic premise: 500 years in the future. We used up Earth and left for another solar system, where we terraformed planets and moons and settled in. No aliens. Just people, living, out in the black. The show, and movie, focus around the crew of a Firefly-class transport called Serenity. Former rebels, a pilot, a mercenary, a mechanic, a courtesan, a preacher, a mercenary...and the two fugitives they take in. Simon, a doctor, and his sister, River. Who happens to be both incredibly insane and a genius. See The Beginner's Guide to Firefly for more.

Sound interesting? Come and see it within the first week - the more profits it earns, the more likely Universal will approve a sequal. And we, the fans, will do anything to make that happen...including spamming unrelated communities in an obnoxious way. We have done the impossible, and that makes us mighty.


Also, if anyone is interested in receiving a copy of the Firefly sampler CD...I should be getting mine and be able to distribute soon.